We found you here! That simply means you are interested in applying for Room Attendant or Housekeeping Jobs in Dubai, Abu Dhabi, Sharjah, or anywhere in the UAE you are living right now. If I am not wrong. Some of you are desperately looking for a better job where you will get paid off well as compared to your present job. And some of you badly need a job to kick start a career as a housekeeper. So let's get started.
| | |
| --- | --- |
| Job Position | Housekeeping/Room Attendant |
| Job Location | Dubai, Abu Dhabi & Sharjah |
| Open Vacancies | 14+ |
| Nationality | Selective |
| Education | High School/diploma or equivalent |
| Experience | Mandatory |
| Core Skills | Cleaning & Guest Room Service |
| Salary | Specified below |
| Benefits | As per UAE labor law |
| Last Updated on | 17th June 2022 |
….
Housekeeping Jobs in Dubai (with Good Salary Package)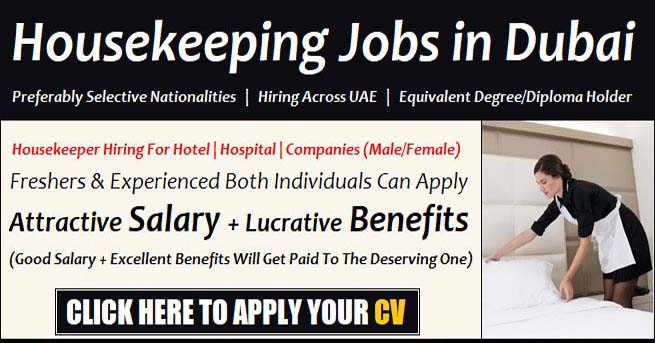 Housekeeping/Room Attendant Job Description
A housekeeper is called a Room Boy, Laundry Attendant, and Cleaner. Housekeepers work in various industries such as Hotels, Restaurants, and Hospitals to represent a positive image. When it comes to talking about cleanliness then housekeeping plays a major role in the hospitality industry. Any environment whether clean or dirty always is judged by its appearance. However, a clean environment makes the image itself in front of people's eyes.
Housekeeping is the only position in the entire hospitality industry that is not limited on a single task. It requires a lot of physical hard work throughout the shift such as dusting, cleaning, vacuuming, mopping, and laundry of the hotel guest room. Housekeepers are responsible for cleaning and preparing the guest room before occupying it.
Salary & Benefits Of Housekeeper in 5-Star Hotel
Competitive Salary

Sharing Accommodation

Medical Insurance

Free Uniform

Annual Flight Ticket

30 Days Paid Leave

Excellent Working Environment

And other benefits will get paid as per law
Eligibility Criteria:
Must hold a High School degree/diploma or equivalent.

Prior working experience would be mandatory as per the availability of jobs.

Must be familiar with all the housekeeping tasks.

Basic conversation in English is mandatory in order to interact with hotel guests.

Positive attitude, sincerity, and passion to deliver the perfect job.
How To Apply For Housekeeping Jobs in Dubai?
If you think you are perfect enough and having the capability to meet the following requirements mentioned below then we'd love to review your resume more thoroughly. However, Freshers and Experienced individuals can be considered according to the requirements listed below. We wish you all the very best of luck!
List Of Vacant Positions (Newly Updated)
Housekeeping Coordinator
Hotel Name: The Eclipse Boutique Suites
Job Location: Abu Dhabi
Education: High School/diploma or equivalent
Experience: With minimum 2 years of experience in the same role
Candidate's Availability: Inside Abu Dhabi
Send Us: CV with a recent photograph
Email CV: hr@eclipsesuites.com
Date Posted: 17th June 2022
Jumeirah at Saadiyat Island Resort (3 nos.)
1) Executive Housekeeper
2) Assistant Housekeeping
3) Housekeeping Team Leader
Job Location: Abu Dhabi
Education: Equivalent degree/diploma holders
Experience: Hospitality experience
Language Skills: English (mandatory) & any of the following languages e.g, Russian, Spanish, Italian, French & German is a plus
Candidate's Availability: Inside UAE
Email CV: abhijit.bukkam@jumeirah.com
Date Posted: 17th June 2022
SLS Dubai Hotel & Residences (Multiple Vacancies)
1) Housekeeping Supervisor
2) Room Attendants
Job Location: Dubai
Education: High School/diploma or equivalent
Experience: With 2 years of experience in the same role
Candidate's Availability: Inside UAE
Email CV: recruitment.dubai@slshotels.com
Date Posted: 17th June 2022
Sharjah National Hotels (2 nos.)
1) Housekeeping Supervisor
2) Housekeeping Attendant
Job Location: Sharjah
Education: Equivalent degree/diploma holders
Experience: Minimum 1-2 years of experience in the hotel field
Candidate's Availability: Inside UAE
Availability: Immediately
Email CV: recruitment@snhgroups.com
Date Posted: 17th June 2022
Wyndham Residences Dubai Palm Jumeirah (2 nos.)
1) Housekeeping Coordinator
2) Housekeeping Attendants
Job Location: Dubai
Education: Equivalent degree/diploma holders
Experience: Hospitality experience
Candidate's Availability: Inside UAE
Email CV: careers@wyndhamresidencespalm.com
Date Posted: 17th June 2022
Housekeeping Supervisor
Hotel Name: Gloria Hotels & Resorts
Job Location: Abu Dhabi
Education: Equivalent degree/diploma holders
Experience: With minimum 3 years of experience in the hotel industry
Candidate's Availability: Inside UAE
Availability: Immediately
Email CV: recruitments@gloria-hotels.com
Date Posted: 17th June 2022
Danat Hotels & Resorts (2 nos.)
1) Housekeeping Supervisor
2) Housekeeping Order Taker (Female)
Job Location: Abu Dhabi
Education: Equivalent degree/diploma holders
Experience: With GCC experience in hospitality
Candidate's Availability: Inside UAE
Availability: Immediately
Email CV: hr.jd@danathotels.com
Date Posted: 17th June 2022
Assistant Housekeeping Manager
Hotel Name: Copthorne Hotel Sharjah
Job Location: Sharjah
Education: High School/diploma or equivalent
Experience: 1-2 years of hotel experience in a similar role
Candidate's Availability: Inside UAE
Availability: Immediately
Email CV: hr.chsj@millenniumhotels.com
Date Posted: 17th June 2022